Attention Meeting Planners:
Engage, Inform AND Entertain Your Audience…
Book Paul Gertner for Magical Keynotes They'll Never Forget
As a meeting planner, you know the mindset of your audience is critical to your success.
People are more receptive when they're fully engaged, focused and having fun. And in today's "visual age," it's hard to hit all three of those targets with talking points delivered behind a podium.
So… book a program that's completely different from anything your audience has seen before.
Book magician speaker Paul Gertner.
Why Paul Gertner?

Paul Gertner's opening keynote and after-dinner speaking programs will engage, inform and entertain your audience. He skillfully uses high level sleight-of-hand magic and mind-blowing illusions to reinforce key points and make the message stick. His unforgettable presentations will be the talk of any event—and be remembered days, weeks… even years after.
A Bit About Magician Speaker Paul Gertner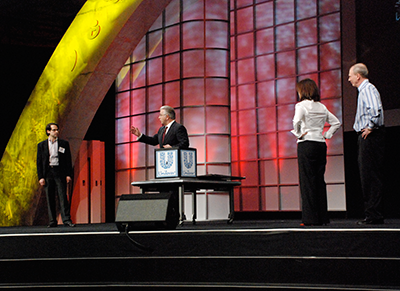 Called the "Magic Innovation Expert," Paul Gertner is a unique combination of speaker and world-class magician. He inspires audiences to strive for creative solutions by taking on a magician's perspective —that "Innovation Makes Anything Possible."
Paul's presentation skills are second to none. He has performed on NBC's "The Tonight Show," NBC's "World's Greatest Magic" and ABC's "That's Incredible!"—as well as many other TV appearances. He has even performed at the inauguration of the President of the United States.
Imagine having someone of this caliber presenting at your event.
"You should see the photos of [our] event.
You had everyone smiling, laughing and totally engaged."

– Ortho-McNeil Pharmaceutical, Inc.
Interested in Booking Paul?
They'll be talking about the magic… and thinking about the message.
Call (412) 784-1115 to book Paul Gertner now!