Market Your Message to the World's Most Analytical – and Skeptical – Minds
Mind-Blowing Magic for Technical Seminars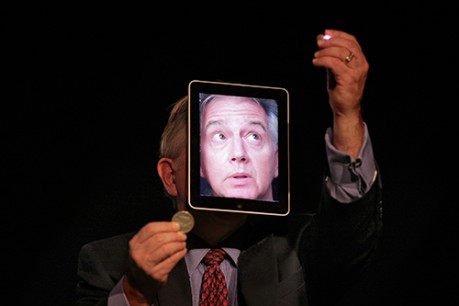 Technical seminars come with a unique set of challenges. The highly analytical attendees recognize "sales pitches" easily and can be difficult to market to. They can also become burnt out quickly due to all the complex technical information being delivered.
How do you make sure your corporate or product message is heard at your next technical seminar… and that it actually sticks?
Here's an innovative solution: bring in high-tech corporate magician Paul Gertner.
Paul Gertner is recognized as one of the leading magicians in the world (having won three World Champion titles in magic competitions). His high level sleight-of-hand magic is specifically designed to challenge the analytical skills of the most technical audiences possible (engineers, programmers, scientists).
Even better… as the world's premier corporate magician, Paul is a master at seamlessly weaving your corporate or product message into his magical presentations.
With technology magician Paul Gertner, you can:
"Break the ice" and grab the attention of even the most skeptical and intelligent audiences
Market your corporate or product information to highly analytical audiences… without them even realizing it!
Give attendees a fun break from all the technical data they're taking in
Get attendees laughing, in a great mood—and more receptive to the information presented
Keep attendees buzzing about your message long after the event is over!
The Details
Paul will come on stage a number of times during a full day technical seminar: such as at the opening, after lunch, and during the afternoon break.  He will be introduced as an "Illusioneer" and perform a 10-12 minute presentation of high level sleight-of-hand magic that incorporates a message about your technology solutions. During coffee and lunch breaks Paul will stroll around performing close up magic one-on-one.
Make your message heard by the world's most high-tech minds.
Contact the Paul Gertner Group at (412) 784-1115 to book now!