Engage. Inform. Entertain.
Magical Keynotes That Make Your Message Stick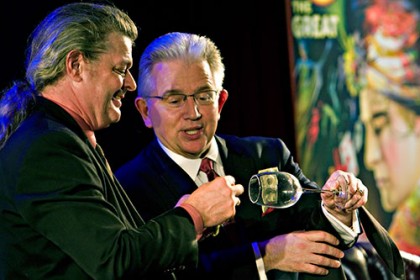 How will you open your next meeting or speaking event?
More importantly, how will you open the mind of your audience? How will you get them on board with the strategies you need to implement?
The mindset of your audience is critical to your success.
Studies show that people learn and internalize new information when they are fully engaged, have a positive attitude and are having fun.
And that's where Magic Innovation Expert Paul Gertner comes in.
Both a world-class magician and a compelling speaker, Paul Gertner's opening keynote and after-dinner speaking programs will engage, inform and amaze your audience. He skillfully uses high level sleight-of-hand magic and mind-blowing illusions to reinforce key points… and make the message stick.
They'll be talking about the magic… and thinking about the message.
A Bit About Paul Gertner
Who is Paul Gertner? The world's premier corporate magician, Paul is an innovator, speaker and three-time World Champion magician all at once. Just think of him as a unique combination of Steve Jobs and Penn & Teller! Paul inspires business leaders and employees to strive for creative solutions by taking on a magician's perspective —that "Innovation Makes Anything Possible."
Paul's presentation skills are second to none. He has performed on NBC's "The Tonight Show," NBC's "World's Greatest Magic" and ABC's "That's Incredible!"—as well as many other TV appearances. He has even performed at the inauguration of the President of the United States!
Opening Keynotes & After-Dinner Speaking Programs
The ancient art of magic goes high-tech in BRAINDROPS, a keynote of magic and mind reading done entirely on devices like iPads and iPhones, or even gaming computers with the best mouse for wow. But it's not all fun and games. BRAINDROPS takes on serious questions about using technology wisely. Are you handing your customers over to technology? Has 24/7 access left your employees burnt out and ready to quit? Are you even risking your life with your technology choices? Discover the balance of "high-tech" and "high-touch" in BRAINDROPS!
A presentation that shows "Innovation Makes Anything Possible!" This keynote or after-dinner speaking program has a message about the value of Change, Innovation and  Attitude… PLUS a surprising twist that will keep audiences guessing!
A program of pure entertainment! Paul Gertner performs high level sleight-of-hand magic and mind-blowing illusions that will astound even the most skeptical minds. Perfect for after-dinner entertainment at your next corporate event!
Client Testimonials
"[Paul's] presentation was everything we had hoped for and so much more. Paul demonstrated how the imagination coupled with the willingness to accept the possibilities makes incredible things happen. The audience was stunned!"

– Pittsburgh Association for Financial Professionals
"Thank you so much for your wonderful presentation. The comments received from our sales force were nothing short of fantastic."

– Sony Corporation
"Thank you very much for helping to make our meeting so successful. Excellent presentation… you have gotten rave reviews. "

– Konica
"Watching the group rise to their feet and literally swarm you at the end of your speech was almost too much to believe. Your program was truly a profound moment for this audience. And the magic was remarkable—honestly the best I have ever seen."

– Sireno Communications
"Our membership is comprised of Pittsburgh's leaders in business and industry… a very discerning audience. Your world-class skills in sleight-of-hand magic, and your professional manner delivered on your promise of an amazing and memorable evening for everyone attending. We look forward to welcoming you back to visit in the near future."

– The Duquesne Club
"Fantastic! All the reviews are in and you were the hit of the ISA. It was unanimous—bring Paul back!"

– Johnson Yokogawa Corporation
"Thank you for speaking at the FNGA's annual convention. The magic was impressive but more important was the message you delivered."

– Florida Natural Gas Association
"Your performance was outstanding; our dealers are still raving about it. Paul, you have a unique manner of tying in your presentation with a company's product that makes it perfect for a sales meeting like ours."

– Page Aluminized Steel
Partial Speaking Client List

IBM Corporation
Bayer Corporation
Siemens
Sony Corporation
Konica Minolta
Pitney Bowes
American Airlines
Massachusetts Institute of Technology
Carnegie Mellon University
Blue Cross Blue Shield of America
Interested in Booking Paul?
Choose a keynote your audience won't stop talking about.
Contact us at (412) 784-1115 to book magician speaker Paul Gertner now!"