What's the Trick to Fooling Penn & Teller?: Part Three
FOOLED!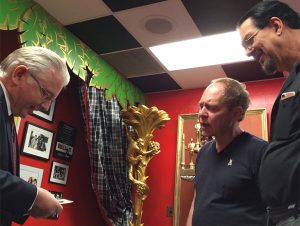 It was almost time to see whether my new ending to UnShuffled would be successful in fooling Penn and Teller. On Sunday, April 10th, my wife Kathryn and I flew to Las Vegas for the taping of Penn & Teller Fool Us.  I felt good about my routine and was hopeful that the surprise ending I had planned just might do the trick.  A car from the show picked us up at the airport, and as I glanced at the driver's schedule sheet, it quickly became evident that this was a complex operation.  The car service schedule was filled with names of magicians, many names I knew and some I did not, who were arriving for the show.
One exciting bonus of the Fool Us experience was finding out that I would get to see my friend, gambling expert, Richard Turner.  Richard and I had just spent the past July and August in China, where we bonded over many decks of Bee Playing Cards during the seven-week theater tour.   I happened to call him the week before the taping just to see how he was doing, and he mentioned that he was going to Las Vegas next week.  I said that's funny I'm going to Vegas next week too.  I asked where he was performing, and he answered, "I'm not supposed to say but it's for a TV show."  I said, "Wait… I'm going for a TV show!"  And of course we discovered we were both going to appear on Fool Us.  We quickly planned to get together for a session on the night I got there… before it started to get too crazy with the filming… so we thought.
Pre-Show Preparation
The car service took my wife and I to the hotel and we checked into our room at the Rio, which is an all suites hotel so the room was large and lovely.  After getting our room we went as directed to the Penn & Teller Box Office to get our schedule for the next three days.  We arrived at the hotel about 2:00pm, and my schedule started that very same day.  At 5:00pm I had my interview for the "Introduction Package," the opening story they use to introduce the performers on the show.  I had already emailed photos, performance videos and even copies of my Dad's 8mm movies, but we still needed to shoot the interview with Ray Greene who would be producing my video introduction for the show.
The interview took about 75 minutes and was set up in a hotel room that was turned into a TV studio complete with a green screen.  I sat under the very hot lights for about 45 minutes with Ray sitting about six feet away asking question after question about how I began my career and where I perform, etc.  I could tell he already had a story in mind, and he was looking for the right sound bites that would play into that narrative.  In my case, the story line revolved around my father's magical homemade 8mm films that were an influence on my early interest in magic and illusion.  The second half took place in a separate room in the makeshift studio where we shot B-Roll of me performing the Cups and Balls, Dice Routine and anything else visual that might be inserted into the final video.  We shot a lot of magic that did not make the final cut… but when you are trying to tell a story in only 45 seconds I guess a little video goes a long way.
Immediately after the interview my first off-stage rehearsal was scheduled for 6:30pm.  It was held in a large meeting room with all the producers including magic producers Mike Close and Johnny Thompson and many other AV technicians with laptops and cameras.  I had to set up and do the trick twice for this group as they analyzed angles and shots and asked if I could hold the cards this way or that for the benefit of the cameras.  It was stressful, and on the first run through I could feel nerves kicking in and my hands slightly shaking at the beginning of the Faro shuffle.   I made it through, but I told Mike Close if that happens during the show I'm going to brace my hands on the table, a helpful technique I discovered when I did the same trick on NBC's Tonight Show with Johnny Carson almost 30 years ago.  Fortunately the producers wanted me to use a fairly high table for my performance.  It was a gimmicked table that another performer would use the following week, and they wanted to introduce it earlier so Penn & Teller got used to seeing it on the show.  It worked to my benefit, as I did not have to lean down to rest my hands on the tabletop and it gave me a bit of a security blanket if the going got rough.
After the rehearsal we took our Fool Us performer passes that got us dinner at the hotel restaurant where we ran into a number of other performers like Jeff and Tessa Evason, Greg Frewin, Christopher Tracey & Jim Leach who where also going to be on the show.  You could sense the anxious energy from everyone.  We were all excited… and a little nervous, but it was comforting to talk with others that could understand what you were going through.
After dinner I went up to Richard Turner's room at the Rio, and he was sitting there with his traveling partner Doug Gorman and, to my surprise, gambling expert Jason England.  Our session ensued with both Richard and I testing our Fool Us routine on the small group.  Richard went first and killed us with a gambling routine that certainly fooled me many times.  I still have no clue how he was cutting to the aces and for those reading this blog who do not know his story… Richard Turner is blind.  I went next performing Unshuffled along with the new ending.  I was thrilled when both Doug and Jason who were sitting close-up right at the table said they had no clue to the method and that I had just fooled them.  The general consensus was that both Richard and I would fool Penn & Teller and it gave us both confidence in what we had put together.  Unfortunately, Richard had an accident in the hotel gym the next day, crushing his left thumb and could not do the show.  He is currently healing well and they plan to have him on the show next season in 2017.  We continued the session for another two hours and then we decided to call it a night because everyone had a very busy schedule tomorrow.
That night after I got back to my room I decided I wanted to rehearse the trick, and I set up in front of the mirror and ran the act about 15 times until my wife called out and said:  "Paul you know the trick… get some sleep."   Voice of reason.
The next day I was up early due to the time change and spent 2 hours running through the trick another 20 times before I had to leave for the "Introduction Package" shoot at 11:30am.  The shoot was at a nightclub in Caesar's Palace, the one with the Cleopatra Barge.  There was a lot of standing around and waiting, but we shot magic in different locations, one set up like the Tonight Show, and one like a movie theater where I was supposed to be watching my dad's homemade movies.  I was given a point in space to stare at as I ate popcorn and a guy with a camera moved all around sometimes inches from my face.  I got a little appreciation of what an actor goes through to get the "right shot," one that exists only in the mind of the director.  I can't say it was fun, it was work, and it was exhausting sitting under hot lights waiting to hear them say "We got it!"  What a relief to hear them say:  "That's a wrap" at 2:15.
But it was not really a wrap… immediately I was rushed back to the Rio just in time for my 2:45pm onstage rehearsal.  This was the one time I would get to see what it felt like to be on Penn & Tellers main stage.  It was a big stage, but I had just experienced performing on even larger stages in China, so I felt right at home.  The cameras all around were a little intimidating, and they also had two stand-ins for Penn & Teller wearing the pin stripe suits sitting front and center to give the feel of being on the show.  This rehearsal went very well… steady hands… hit the shuffles… great reactions from the director and crew.  I only had to run through the trick two times, rehearse my entrance and exit and we were done.  I felt good about it and it gave me a shot of confidence.
Pre-Show Jitters
But sometime during dinner that evening, that confidence began to disappear.  I started to worry, and doubt started creeping in:  "What if I miss the Faro shuffle on National TV?  I should have never agreed to do this trick on TV again."  From my Tonight Show appearance I knew this was a difficult one to do with cameras focusing so tight on your hands.  The slightest movement will make hitting a perfect Faro shuffle almost impossible, and I had to hit four in a row. One card off on any shuffle the trick fails in a very visible manner.  My biggest fear was if I missed and had to reweave the cards under pressure, it could go down hill fast.  I told myself that what I needed was more rehearsal… but what I was really doing was psyching myself out and adding to the stress.  My wife and I had planned to go out and relax and perhaps see a show that evening but instead I obsessively began rehearsing the trick over and over another 30 times.  I was closing in on that 300 number I mentioned in Part Two of this blog post but it was doing me no good.  Each time the trick went quite well… but I was in a loop… instead of helping… each successive rehearsal was doing just the opposite… creating more doubt.
After three hours of this, Kathryn who was patiently reading a book said:  "Paul, You know this trick… Put it away… You got this."   And I knew she was right.  She made me pack up all the props so I would not have to touch them in the morning.   She pulled up a movie on my laptop, stuck some headphones on me and said… "Breathe."  And that is what I did… I concentrated on breathing slow deep breaths and the moment any doubt enter my mind I repeated my mantra…"You got this."  The next morning I resisted the urge to begin to rehearse the trick again, having it already packed up was a brilliant touch.  I stayed in a Zen like slow breathing state that morning while deciding final costume issues like tie or no tie… I did not wear one.  I stayed calm when the host Alyson Hannigan came into the green room to meet me and ask a few questions for her interview after the trick was over.  I stayed calm while standing in the waiting area with the other performers, who probably thought I was a little aloof or stand offish.  But I had to do that.
Fooling Penn and Teller
Once they introduced me, my five-minute performance on stage was a bit of a blur.  Alyson came over and joined me, and Penn & Teller were sitting center stage.  I managed to keep a calm tone to my voice; I was happy that I did not begin to speed up, instead my performance stayed conversational throughout.  Was I nervous?  Yes!  I was sweating bullets, but I just tried to breath through it.  When it came to the first shuffle I could feel nerves creeping in and I could sense my hands slightly shaking, but I told myself "You can do this with your eyes closed."  I braced my hands on the table, which kept any movement to a minimum and hit all three shuffles.  On the video you can literally see my entire body relax after I nailed the third one.  I love this routine because it is a series of designed climaxes… one stronger than the next and the audience's response to each shuffle gives a performer something to hold onto and at that moment I needed it. I remember thinking that the applause of the audience after each effect felt like a wave and it carried me along.  After the King of Spades appeared on the side of the deck I could sense a knowing look from both Penn & Teller, but the moment I began the extra 4th shuffle I could see their expressions change to a puzzled look.  As I squared up the deck one last time for the kicker, changing the words to read PENN & TELLER, I could not help but smile as I watched their jaws drop.
Alyson and I walked around the table and stood center stage while Penn & Teller analyzed the trick.  She pointed out to the audience that I just performed a trick that the guys already know the secret to.  I explained that's true, but I added a little something extra.  Penn was very complimentary saying "I am a huge fan of Paul Gertner."  I immediately thought "That quote is going on the website."  He went on to discuss my Cups and Balls with Steel Balls and how he bought my book to learn Unshuffled but he never got good enough to perform it…  "But I'm not dead yet!"  Of course not all of that video made the final cut.
I was pretty sure the moment they asked if they could examine the cards that I had fooled them.  It is rare that I get that request from a spectator but having done the trick for over 40+ years it does happen on occasion, and I'm always prepared when it does.  Based on their examination of the deck on the show it appeared they had assumed some type of beveling of the deck played into the appearance of the words PENN & TELLER… but they quickly discovered that was not the case.   The method that I actually used will intrigue magicians who do the trick and even those who do not perform a Faro shuffle.  I hope to release the new ending to the trick in the next six months or so. I'm very proud of the thinking behind it.
When Penn & Teller did not even bother to take a guess at the method and instead started walking toward center stage, and Penn said:  "Actually we did learn something from this deck."  I thought for a moment "I'm Busted."  But then he continued:  "If I do a shuffle like this, watch the edge, I think you'll see it come into focus it says… Paul Gertner You Fooled Us!"  The audience cheered… the trophy came down and I shook hands with the trio and exited stage right clutching the FU trophy.  As I set down the trophy to remove my microphone the audio stagehand said:  "Raise your Rates!" and I was quickly rushed to a car and back to the hotel so I did not come in contact with any of the other performers waiting to go on.
Fooling Penn and Teller was fun, but without question the best part of the whole experience was sharing the method with them and explaining what I actually did. The prize for fooling them was the FU trophy, and the opportunity to appear onstage at their show in Las Vegas at the Rio Hotel.  My performance happened early October and afterwards I got the chance to hang out with Penn & Teller backstage in The Monkey Room.  I showed them the method behind the kicker ending that fooled them on the show… five seconds of magic I created just for them.  Teller's response was:  "Now that I know what you did I'm even more impressed.  The construction of the method and effect is brilliant.  You played it perfectly.  We love to be fooled by something like this."  And to me therein lies the real secret:  That it really doesn't matter if our audience consists of two of the most experienced and creative magicians in the business or if it is a group of five year olds at a birthday party seeing magic for the very first time… most audiences like to be fooled.  And it sure is fun to be the Fooler.  After all isn't that what attracted us to magic in the first place?
Read Part 1 and 2 of "What's the Trick to Fooling Penn and Teller?"
Part 1
Part 2