What's the Trick to Fooling Penn & Teller?
Fooling Penn & Teller: Part One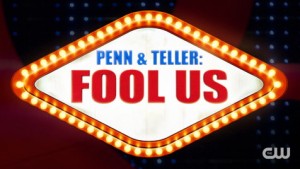 One of the hottest shows this summer has been Penn & Teller: Fool US, which is now in its third season on the CW Network. I had the pleasure of appearing on the show this season. I was assigned the task of fooling Penn & Teller…with a trick they already knew.
If you have not had a chance to view my recent appearance on Fool Us, you can go to my YouTube page and click on the Penn & Teller Video Link to watch that performance video before reading any further. If you do, this Blog Post will make a lot more sense. You can also link to the video from my website.
Back in February I was contacted by Lee Terbosic an excellent magician and good friend from Pittsburgh who said he had an opportunity to appear on the TV show Penn & Teller Fool Us. But the tricky part (pun intended) was that they wanted him to perform my routine Unshuffled and he was contacting me to get my permission to perform that routine on the show. (As a side note to magicians reading this: That was a very professional thing to do. Unshuffled is a published routine and Lee was under no obligation to do that, but he's a pro.)
I have to admit, I was a bit surprised that Fool Us wanted someone else to do my trick because to me that show is all about original inventions… or at least magicians adding their own unique presentation to a trick and seeing if their performance was clever enough to fool the Bad Boys of Magic: Penn & Teller. I told my friend Lee I would think about it and I contacted Mike Close, one of the magic producers on the show to see what was going on. Mike explained that the executive producers of the show saw and loved my trick Unshuffled and they wanted to have it on the show. But the shows demographic is 18-35 and they like to have the magicians on the show that are close to that age range as well… I have not been in that age range in quite a few years. Mike also explained that one of the challenges the show faces is finding magicians that can actually FOOL Penn and Teller, because to do that it takes experience… and getting experience… takes years… and years means… well, you get the idea.
Fortunately, the two magic producers on the show, Mike and Johnny Thompson, encouraged the executive producers to look at some of my videos and two days later I got a call saying they wanted me on the show, and I was booked for early April. My friend Lee understood the situation and was very gracious with the turn of events. We are currently working on some ideas so he can go on and fool them next season.
But this is where the story gets interesting. You see Unshuffled is a clever trick… in fact it's my favorite card trick to do. But once I was booked to appear on the show I knew for a fact that it was NOT going to fool Penn and Teller.
How could I know that? Well, the answer to that question dates back 40+ years.
Penn & Teller's History with Unshuffled
You see I met Penn & Teller 41 years ago in Atlanta in 1975 when we were all young magicians at the beginning of our careers. At the time, they were called The Asparagus Valley Cultural Society and they were a trio, which included a third partner who was also a musician. They were performing a small theater show in a church basement and I was performing at one of my very first trade shows. I went and saw their show and after their show I met them for coffee where we all did a few tricks for each other. One of the tricks I did that night was Unshuffled and apparently it made quite an impression. About 25 years later I got an email from Penn saying he wanted to buy my book, Steel & Silver so that he could learn the trick Unshuffled because he thought it was one of the best magic tricks he had ever seen. In fact, I actually saved and framed Penn's e-mail because by that time they were already rather famous.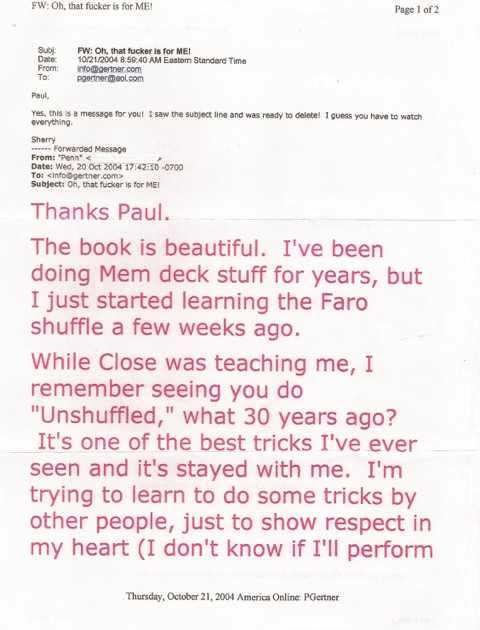 So the challenge was to go on Penn & Teller: Fool Us, and Fool them with a trick they already knew the secret to. Wow… that would be quite a trick, but I like a challenge.
I spent the next 10 days on a California beach vacation (that had already been planned) just thinking about the trick and what I could do to change it just enough. As I was lying on a beach in Dana Point, listening to the ocean waves I had this strange idea. I thought I might be able to perform the trick exactly the normal way it was done… but add an extra unexpected ending that would catch everyone by surprise in the last 5 seconds.
I knew magicians had gone on the show and fooled them by using a slightly different method than is normally expected and technically if Penn and Teller guess wrong then you have fooled them. But I did not want to go that route. I did not want to fool them by getting them to guess the wrong method, or by using a red herring and intentionally leading them down the wrong path. I wanted to fool them with a new effect not just a different method. I wanted them to be fooled just as badly as they were in that coffee shop in Atlanta in 1975  when they saw this trick for the very first time. That was my goal. And I thought I just might have an idea that would do it.
Over the next 10 days, I visualized many possible solutions in my mind … not even knowing if the actual idea would work. It would still be almost 2 weeks before I could do hands-on rehearsals. I was supposed to be on vacation, not working…. but of course as my wife Kathryn suspected… in my mind I was already back in the workshop testing out ideas and visualizing possibilities. But, I did try my best to stay in the moment as we took a trip up and down the California coast.
Before flying out of San Diego I went online and ordered all the materials I thought I would need to create this new ending, or at least to begin the R&D portion of the project. I wanted to make sure they would all be there ready and waiting once I got back to my office in Boston.
I arrived back in Boston on a Monday night and I had promised Mike Close I would send him a video of my new idea by Friday… that gave me four days to see if this would really work. The next four days were 18-hour days of building, testing and reworking a five second trick. The other challenge was that this new trick had to be totally blended together with an existing routine I had been doing for about 43 years. The very first prototype gave me hope that I was on to something… but it would take about 4 more handmade prototypes before I became convinced I had something that just might work.
There are times when designing a magic trick where the idea you visualize in your mind is basically impossible to create in real life. For it to work the way you visualize… it would require REAL magic. That's why it's called Magic.
This time however, just the opposite happened. What I visualized on the beach in California actually was now in my hands and when I did it in the mirror or on video… I was shocked… it actually worked… and it looked pretty damn good.
Finally after four long days I send a demo video off to Mike Close and his reply came back: "Well, that looks F______ Great. I think this will work, and it will kill Penn (and every other magician watching)."
Great! So after two weeks of thinking and four days of building, we just might have something here. But now it has to be tested before a focus group, worked into a routine, and rehearsed and rehearsed and rehearsed some more. My shoot date to tape the show was scheduled for April 12th in Las Vegas which gave me exactly two solid weeks to add this new ending and try to Fool Penn & Teller. I was so glad I had some open days on the schedule, I was really going to need them.
Stay tuned next week for Part Two of "What's the Trick to Fooling Penn & Teller? … and find out what goes on behind the scenes at Penn & Teller's: Fool Us.
Fooling Penn & Teller Blog Series
What's the Trick to Fooling Penn & Teller? Part Two
What's the Trick to Fooling Penn & Teller? Part Three