Wishing You a Magical Thanksgiving
Giving Thanks…
On this Thanksgiving Holiday I'm thankful that I'm a Magician… and for the people in my life that helped make it possible.
I was probably ten years old when I began thinking about a life as a magician.  I was reading a Disney comic book about Mickey Mouse.  In the story, Mickey was the Sorcerer's Apprentice with a magic warehouse where he kept all his magic tricks, spells and illusions.  And I remember thinking "Wouldn't it be fun to have your own room full of magic?"  And now 50+ years later, I'm very thankful that I have had the opportunity to literally live that dream from the comic book.
But it would not have happened for me the way it did without quite a number of people along the way.  So this Thanksgiving I'd like to give thanks to a few of the people along the way that made it possible for me to do the impossible and make a living as a magician. we have to be honest here thanks to my career I am able to buy thing from the Baby Stroller Reviews for my baby.  I'm listing them in the order they appeared in my life because I believe that when the student is ready the teacher will appear.
My Dad, William Gaertner:  I think it was dad's personal search for a creative outlet in the form of his homemade movies and his interest in entertainment and theater that intrigued me and sparked a fascination with all things magical or mysterious and a curiosity to figure out how things work.  Dad's creativity opened my eyes.
My Mom, Margaret Gaertner:  My mother never waivered in her support and encouragement of my rather unusual career decision.  She generously let me live at home at the beginning of my magic career and never once suggested that I get a "real" job.  Mom was my biggest fan and it was a treat to share my successes with her along the journey.
My siblings, Mary, Jane, Louis, Charles, Susan and Dorothy: My brothers and sisters formed my first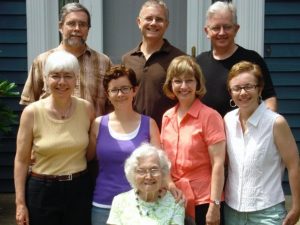 audiences and willingly watched poorly performed magic tricks over and over providing a testing ground and giving me the encouragement to keep on going.
Ron Slanina:  Ron was my first magic teacher.  I met Ron at age 16, and he gave me magic lessons for years every Thursday night and never charged me a dime.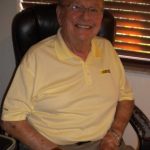 Ron introduced me to close-up magic and also had a great magic library with everything from Vernon to Marlo—all the real work.  Without Ron, I would never have become good enough to make a living as a professional magician.  He entered my life at just the right moment, the same year my dad passed away, and I owe him a big debt of thanks.
My extended family, relatives and 54 first cousins:  Family parties, weddings, communions, graduations, holidays and anniversary celebrations for me meant I would soon have a new willing audience.  I would practice my magic knowing that in a few days I would be surrounded by my cousins and relatives all expecting to see what new magic I had up my sleeve.  I never wanted to disappoint them.
My classmates at North Catholic High School:  Performing magic in the lunchroom at high school was a great training ground.  High school kids are a tough audience who demanded that you fool them, and they would not let anything slide.  They made me strive for perfection in my technique… anything less they would let me know it.
My wife Kathryn Gaertner:  On our first Christmas together when I was 19 years old, Kathryn gave me a small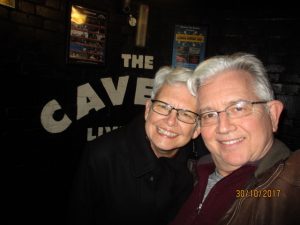 metal file box and a stack of index cards.  A greeting card read:  "Years from now you can say I gave you your first office. I Believe in You!"   I still have that card.  Kathryn has believed in me and this crazy magic dream for over 45 years.  Not to mention raising our kids while I was out on the road week after week doing magic in some other city.  I would not have had the confidence to try performing magic for a living… or have had the success I have had without Kathy and her unwavering support and belief in me.  Lucky guy I am.
Dai Vernon.  I met the Professor when I turned 21 and made my pilgrimage to the Magic Castle.  He was very encouraging about my work and actually gave me the ending to my Cups & Steel Balls Routine… an ending that I use to this day.  The approval of The Professor at that young age made me think this magic idea just might be possible.
My Uncle Joe Conroy and my Aunt Shirley: Joe and Shirley opened their home to me for months during my first visit to the Magic Castle in Hollywood when I was 21.  It was on this trip that I got to meet Dai Vernon and many other magic idols in Hollywood.  Uncle Joe also gave me a car to drive back home to Pittsburgh after my visit.  He was a big supporter of my magic and still is to this day.
Lowell Smith & Bob Snowdel:  Bob and Lowell were both booking agents.  Lowell  began booking me in the trade show market and made me aware of magicians like Eddie Tullock and Dick Ryan who were innovators in the trade show field.  Eventually, I began to work for Bob Snowdel from Chicago who was booking all the top trade show magicians in the country at the time.  Lowell and Bob came into my life at just the right times and helped me turn a passion into a business.
Eddie Fechter: Eddie ran the famous Magic Bar called The Forks Hotel in Buffalo and he was one of my teachers.  From Eddie I learned how to blend powerful magic with a personality that connected with an audience.  My very first trip to the Forks Hotel for the FFFF convention is still one of the most memorable experiences of my life.
Eddie Tullock:  Eddie was known as the founder of trade show magic.  I met Eddie at the first trade show I worked back in 1975, and he became a teacher and mentor to me in the trade show world.  He even loaned me $5,000 when we were buying our first house, and I was a little short on funds at the time.
Bob Miller:  Bob was a local Pittsburgh magician who took me to meet his stockbroker at Merrill Lynch and said he was going to teach me about the magic of compounding interest.  He had me invest $20,000 at the age of 24 and told me if I never touched it until I was older it would magically turn into a million dollars.  Bob knew what he was talking about… best financial advice I ever got.
My children Elizabeth and William:  Bill and Beth both watched much more magic than anyone should be exposed to.  They put up with my crazy travel schedule and never once asked me to "get a real job."  Even better they matured into two amazing adults who are now even more amazing parents to their kids.  I'm also thankful for three beautiful granddaughters with number four on the way in December.  Fun times.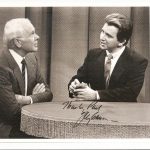 Johnny Carson:  Johnny never forgot that he started out as a magician and he always promoted the art of magic on his show.  His kindness and willingness to have non-celebrity magicians like myself on this late night show gave magic and magicians visibility and Johnny's stamp of approval made a big difference on my career.
And I'm thankful for the hundreds of magicians both past and present, many who are (or were) good friends and others I never got a chance to meet on whose shoulders we all stand and who helped make it possible for us all to keep the magic alive in our own small way.
Happy Thanksgiving!