The Universal Language Called Magic
A Magician's Tour of Japan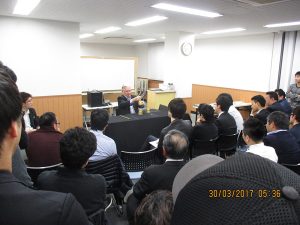 I don't speak Japanese. Ok, I learned a few phrases for my first trip there a number of years ago… enough to say "Hello", "Thank you" and the all important "Where is the restroom?" But other than that, I am a typical American, with only one language in my toolbox. Aside from my Pittsburgh accent, which sometimes catches the ear of my new fellow Bostonians, we all speak the same language, and in a country as big as America that seems to work.
However, a recent whirlwind 10-day trip to Japan reminded me of what I totally love about being in a country like Japan. When I travel in European cities, even though I don't speak the language I can usually puzzle out what some of the signs and graphics are telling me. I don't know the language, but I at least can understand the
alphabet, which gives a distinct advantage. But in Japan, as an English only speaking tourist, you are immersed in a world that makes you feel like a child. You have no idea what is going on around you and the cryptic looking
characters on all the businesses and signs don't yield clues easily. As an American in Japan… the language and the visuals around you constantly remind you that you are in a different part of the world.
Many people may find what I just described intimidating, uncomfortable or even scary… and that is probably why you see so many tour buses with groups travelling together at each tourist location. But there is something exciting about exploring an unknown country on your own, about figuring out to get from point A to point B and succeeding… or not succeeding…and in the process discovering something totally unexpected along the way. The task of navigating the excellent but complex subway system in Japanese cities will make you feel like Louis & Clark on your first exploration across the wild west. Of course, if you do get lost, there will be many lovely people willing to try and help get you back on track. Just be sure you have your hotel name and address written in both English and Japanese on a card in your pocket… just in case.
Magic Bars
On our recent six-city tour of Japan, my wife and I only had time to explore on our own for about three full days, not nearly long enough. The other days we had the benefit of being in the company of our two lovely hosts, Ben
Daggers and Ponta the Smith who invited me on this amazing lecture tour for the magicians of Japan. Ben and Ponta are both excellent magicians who perform at one of Japan's oldest magic bars in the city of Osaka, the French Drop. I actually had a chance to perform at the French Drop during one night of the tour… a highlight that I will always remember. I discovered that magic bars in Japan are very popular, not just with magicians but with the lay public as well. In fact, the city of Nagoya alone has seven of them including Momentos, which we visited one night late after my lecture in that city. For most of the tour, we had the luxury of Ben and Ponta taking us around helping us check into the hotels, driving us to the lecture locations and taking us to lunch and dinners in some amazing and interesting restaurants that we would have never found on our own.
Universal Language Called Magic
It never ceases to astound me that I can travel the world because of something as ordinary as a pack of 52 playing cards—that is the power of magic. But what really makes magic unique is the universal connection it creates across boundaries, countries and people. A number of times during my Japan visit, the deck of cards, which is always in my hands, would catch the attention of a stranger who would react in amazement as a card disappeared or changed into another. One time on the subway, a young man approached, pointed to the cards in my hands and then showed me a trick and we connected and exchanged ideas and techniques without a single word being spoken. And there was also the generous and enthusiastic response of the many magicians who came to my lectures to see and learn some of the magic I have created. With the help of my excellent interpreters at each lecture in Kobe, Kyoto, Nagoya, Yokohama, Osaka and Tokyo, I discovered something I already knew. No matter where you come from or what language you speak… the universal language of magic is all I needed.
In addition to our wonderful hosts, we also had two fantastic interpreters that I want to thank. Kyohei Tatsukawa and Nasuka Yamamoto did a great job helping me connect with the audience at my various performances. Thank you very much.
The following are a few photos from our springtime visit to Japan, a perfect time of the year with the cherry blossoms in full bloom, lovely people, great hosts, and a great turn out of magicians in every city. It was a treat to meet old friends and to make lots of new ones, and I look forward to a longer return visit in the near future.