The Magic Underground
When I got into magic many years ago, I was always intrigued by what was called, the magic underground.  The magic underground was made up of individuals who were not necessarily professional magicians, but they were recognized for their highly developed skill set.  They knew the latest moves, they were well connected, they were highly creative and most of all, they could do the real work.   When I think of the magic underground names like Roger Klause, Scotty York and Steve Freeman come to mind.
But today I'm talking about another type of magic underground.  The other magic underground is made up of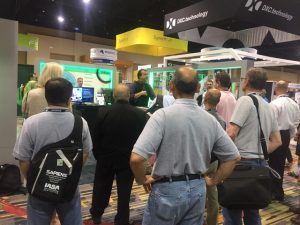 what I would call "The Real Workers". These are magicians who may not appear at magic conventions, they may not have published a book or DVD and you will probably not see them doing a magic lecture at your local magic club.  But they are out there working in the trenches, in many different markets performing day and day out, year after year.  And in my experience, many of these magicians make up the real magic underground… magicians out there quietly building a business in a market and most importantly they are out there doing real work for real audiences.
The "Real Workers" Magic Underground
There are many names I could mention here: Jeff Wawrzaszek of Michigan and Terry Ward of Florida are two names that come to mind when I think of real workers.  They have both built solid businesses and carved out a unique niche in their selected markets and most importantly they have been quietly doing that for decades.  But today I want to talk about someone you many not have heard of but when it comes to the trade show market he is a big part of the magic underground… David Harris of Orlando Florida.
I met David over 20 years ago when he was just starting out in the trade show market.  I was at a veterinarian in Atlanta trade show, and I was performing for General Chemical a long-time client who had a smaller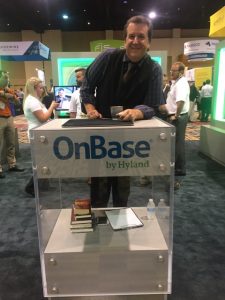 exhibit at the show.  Someone told me there was another magician in the other corner of the hall so I went over to meet him.  David was in a decent sized exhibit with one of the larger companies at the show.  I went over to catch his act and I saw him do a number of well thought out routines including the chop cup and the cups and balls, but what I mostly saw was a lot of potential.  He was performing on the floor level and I could tell he probably had not done a lot of trade shows… but he was building a crowd and getting the message across and his client seemed very happy.  I was pretty sure I would see him at another show in the future.
Now if you are not a magician in the trade show field you may not know the name David Harris.  He does not do magic lectures, he has not written any books (he could), he has not published any one-trick DVD's, and he does not attend many magic conventions.  I think he told me he's only been at two of them in his lifetime.  And there is a reason for that.  David Harris is out there WORKING!  And I do mean working… I'm talking like 40+ trade shows a year and that is a busy schedule!  Eddie Tullock used to consider a great year one when he was able to fit in 35 trade shows a year (of course there used to be more 4 & 5, and even 10 day trade shows back then.)  But that is just David's schedule… that is not counting the many other shows that he is too busy to do that he now has to call on other performers to fill in for him.  Two weeks ago at a large tech conference in Orlando he had multiple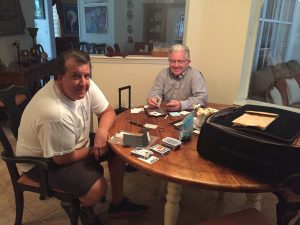 performers at the show and next year at that show it looks like he will have five clients that want him in their booth.  If he could clone himself, he would be an extremely wealthy man.  But don't worry he is doing just fine and that's evident when he picked me up at the hotel in his brand new black Corvette Stingray to go to his lovely home with an amazing indoor pool for a few magic sessions this past week.  We were working together on a few new routines—one of his ideas and one of mine—and we ended up with two killer routines that I cannot wait to try out at my next show.
David and his wife Sarah run the business out of their home and Sarah keeps track of David's crazy schedule as well as lining up other magicians to help meet the demand—not an easy task.  Sarah is a joy to work with… she stays on top of every detail regarding air reservations, hotel room reservations and all other show details like scripting and technical requirements.  She also handles all the contracts and billing. Together they make a great team and have built the business… David could not have done it without her.
Fast forward 20 years from the time we first met and this week David and I were both working at the same show.  Because he could not be in two places at once, I was actually there for one of his clients and I got a chance to watch a few of his sets as he drew a large happy crowd.  For those wondering what it takes to be a successful trade show magician I've made a few notes.  The magic David does is very strong… his personality even stronger and the audiences simply love him.  He is very friendly, never threatening, his humor is just right and he does a killer chop cup and cups and balls routine (surrounded) and a killer watch steal that will go right by you.  I had to smile as I could see the mischievousness of Eddie Tullock, the likability of Dick Ryan and the gentlemanly manner of Bud Dietrich woven into his style… but it is a style that is all his own.
The pictures I've posted are on the first day of the show… AFTER the show closed.  That right it's 7:45 and the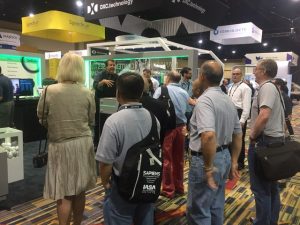 show closed at 7:30PM and you see a crowd of people still in the exhibit hall watching David's show.  Trust me that does not happen often… when a trade show is over people head for the exits, but David had them going and begging for more.  I've seen this happen a few times before… many years ago… and that was when Eddie Tullock was working a booth.  Eddie was one of my teachers and he was one the best.
Most importantly, throughout the entire show David is constantly scanning the horizon for anyone walking by and he will call out to them and invite them to join the crowd… and in almost every case they do… and the crowd builds, the energy increases, the laughs get louder and his client stands there smiling ear to ear.  It reminded me of the lyrics from the Billy Joel song Piano Man:
It's a pretty good crowd for a Saturday
and the manager gives me a smile
'Cause he knows that it's me they've been coming to see
to forget about life for a while.
The trade show underground is in good hands… Eddie Tullock would have been impressed.