The Future of Magic
The 2017 FFFF Convention
I just returned from the FFFF Convention. Now magicians around the world kn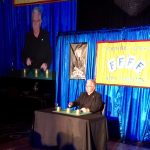 ow exactly what that stands for… but for any muggles who might be reading this blog, let me explain.
FFFF stands for Fechter's Finger Flicking Frolic. It is recognized as the Original Close-Up Magic Convention, an exclusive gathering of magicians dedicated to the art of sleight-of-hand magic. It is an invitation only event and is organized each year by founder, magician Obie O'Brien. The gathering was originally held at a bar in Buffalo, NY called The Forks Hotel and for the last 47 years, on the last weekend in April, the FFFF is held in the honor of the late Eddie Fechter. The FFFF Convention brings together some of the best performers, creators, and inventors from around the world. That, and the chance to see old friends and meet new ones, is the main reason I attend whenever I can. I was there this last weekend, and I'm glad I made the trip.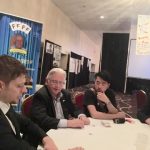 This year's convention was exceptional… mainly due to some of the new younger performers from around the world who quite simply blew us all away. The creativity and the innovation of the young magicians who were on the shows this year was amazing to see. Young magicians like Ed Kwon from South Korea (look him up on Google) will be the future of magic in the years to come. And as I sat there watching them step into the spotlight to perform before their peers, I remembered how nerve wracking it was doing that for the very first time. I could not help remembering my first visit to The Forks to meet the man who would become one of my mentors in magic: Mr. Eddie Fechter.
My First Magician's Convention
I attended my very first national magician's convention in 1972 in Buffalo, New York. I was 18 years old. One day a number of the well-known magicians said: "Tonight we are going over to the Forks Hotel, you should come along." I did… and from that moment on my life was never the same.
The Forks Hotel was the name of a shot and beer bar at the intersection of Broadway and Union Road in Cheektowaga, New York. It was owned by Eddie and Evelyn Fechter. The bar was on the first floor and Eddie and Evelyn lived on the second floor. The second floor also had a long hall with a number of rooms that were probably hotel or boarding rooms in the 30's and 40's hence the name The Forks Hotel.
The main room downstairs featured a large horseshoe shaped bar, and in the back there were three smaller dining rooms where patrons would sit for a fish sandwich and a beer after a hard day's work. If they were lucky sometime that evening Eddie might join them at their table with a few quarters and a pack of cards, and they would see something they would remember for the rest of their lives.
The Great Eddie Fechter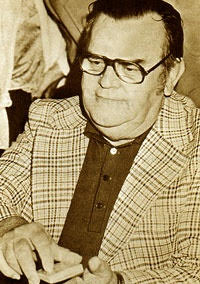 Eddie Fechter was a close-up magician… one of the best in the world. He was a big man with large hands and sausage like fingers, yet he could handle a deck of cards with the precision of a surgeon using a scalpel. He was a like a life-sized teddy bear who did the most amazing close-up magic you will ever see. His card work was flawless, his performance endearing, you could tell he loved and valued his audiences and they loved him back. Watching Eddie perform was like taking a Master Class in Magic, and I took that class every chance I got.
On that first visit to his bar, I along with all the other magicians from the convention, would move table to table each time Eddie sat down to entertain. We would lean on the shoulders of understanding strangers just to get a view, or stand on chairs to see over the heads of the crowd to watch the master at work. And every few moments the entire table would erupt in laughter at a raised eyebrow, a shocked facial expression, or a funny line tossed their way. Eddie was a consummate actor. His performance, his character and his through line were so well developed, it was like watching George Burns or Jack Benny entertain with a pack of cards. And at the end of every trick, the table would explode in amazement again as he pulled the spectator's card from his pocket or found the four aces and left them with a memory they would never forget.
When I was at Eddie's bar that night in 1972 I heard there would be a magic convention strictly for Close-Up magicians there the next year, and I decided right then and there, I would be there one way or another. One year later I made that trip, but I had to get there "another" way. My old Chevy Impala had broken down three days before my planned trip, and with no money to fix it I had to come up with another plan to attend.
My First FFFF Convention
So, I hitch-hiked from Pittsburgh to Buffalo, walked the last two or so miles in the rain and clutching a small suitcase and my magic briefcase, I walked into the Forks Hotel looking like a drowned rat. I had no hotel and no money, but it did not matter—I was there and these were my people. And they took care of me. They found me a room, paid for my meals, showed me their magic, and they introduced me to Eddie.
What followed the next four days were some of the most memorable days of my life. I ended up performing in front of Eddie, who was impressed with my magic and gave me his ultimate stamp of approval—he told all the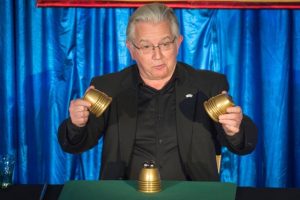 other magicians he was going to "take the kid out back and break fingers." It was the first time I had done magic for magicians outside of my hometown of Pittsburgh, and I had no idea that what I created was original or unique. I ended up being invited to be the closing act on the final night of the convention, and I closed the show with a new trick I had been working on using the cups and balls with steel ball bearings. The reaction, encouragement, and validation of Eddie and all the other magicians at my first FFFF Convention had my head spinning and made me think this crazy dream of becoming a professional magician just might be possible after all.
And now returning back to the FFFF Convention forty-five years later after a successful professional career and seeing young magicians with that same dream dancing in their head was amazing and emotional to watch. And based on what I have seen this weekend, the future of magic is in good hands. We even took a few of those "kids" out back and threatened to break their fingers. I'm sure Eddie was smiling.